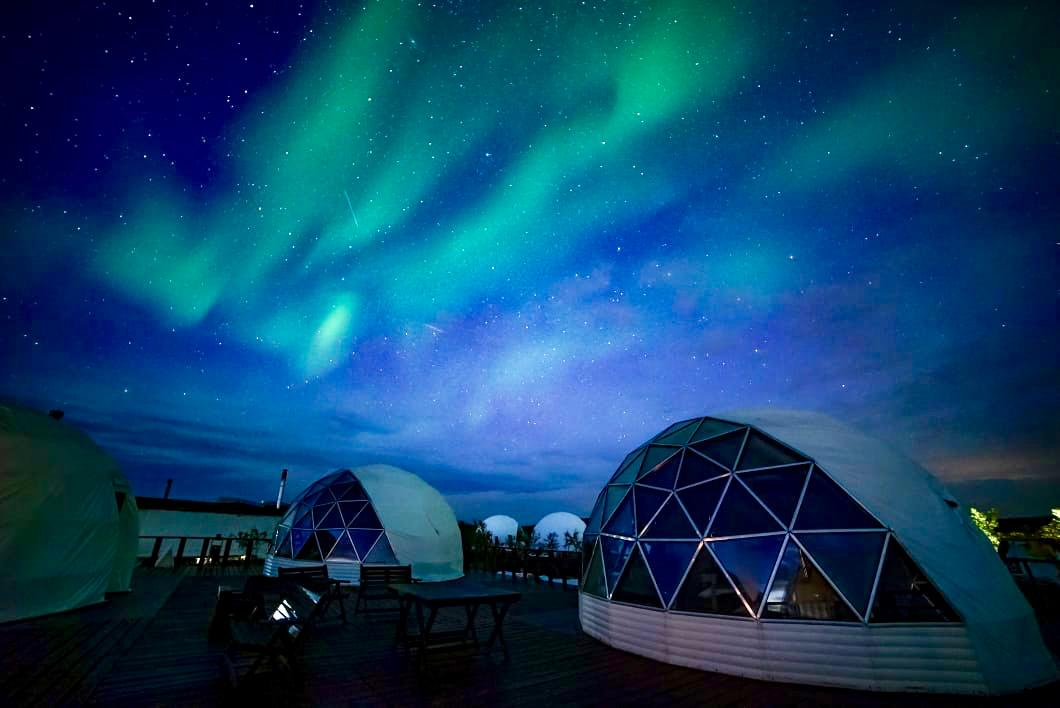 Northern Lights in Russia
Making Dreams Come True
I remember seeing the Northern Lights on television or movies whenever the scene involved Santa Claus, the Snow Queen, or Elsa from Frozen. In hindsight, it was a fleeting childhood dream to see them with my very own eyes. And I did.
Here's a recounting of my short but sweet adventure in Murmansk, Russia to hunt for the famous Aurora Borealis or Northern Lights.
Getting There
The 10-hour flight from Bangkok to Moscow via Aeroflot Russian Airlines was a great welcome to this trip.  The flight was on time, the flight attendants were very accommodating and warm meals served were satisfying to both the palate and the stomach.  I thought, like most long flights, that I'd just catch up on sleep or read a book.  Surprisingly, the flight offered a "snack bar" that featured a basket of biscuits, chocolates, and drinks at the back of the aircraft – and we were flying economy! Cheers to that!
Getting off at Moscow's Sheremetyevo International Airport was overwhelming at first, but there are signs to lead you where you need to go.  Plus, the staff at the Information Desk were very helpful and could speak English very well.  You won't go hungry or bored while waiting for your domestic flight to the city of Murmansk since there's a variety of restaurants and shops even beyond the check-in gates.
The Aeroflot flight from Moscow to Murmansk is probably the longest two-and-a-half-hour flight I had taken with all the anticipation and excitement building up in my system.  After picking up our luggage, we were met by our driver and transferred to our hotel – the Eco Home Murmansk.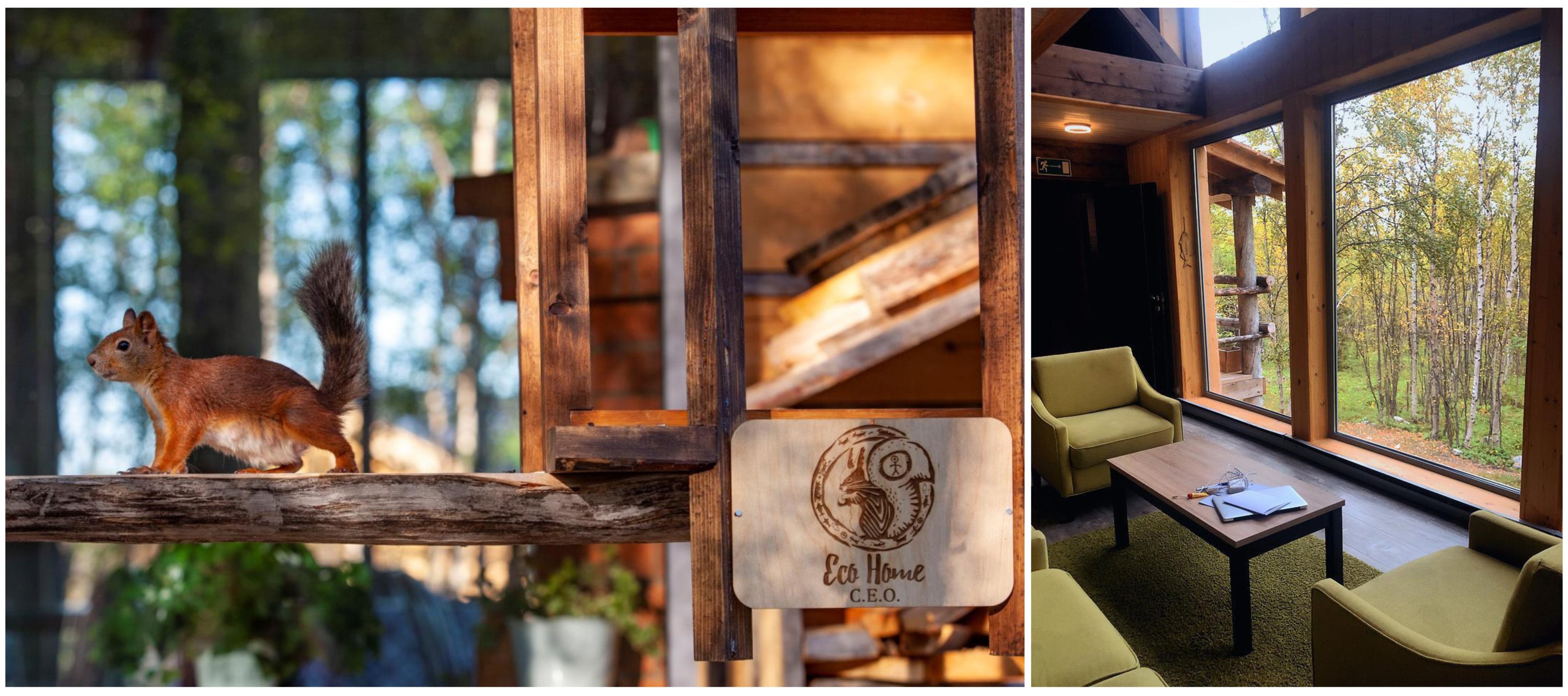 Hotel Eco Home
Hotel Eco Home is 19 kilometers from Murmansk airport and about 14 kilometers away from the city center.  It is a hidden gem sitting beside a lake surrounded by forests – but with strong wi-fi connectivity!  The "hotel" consists of six cabin lodges, a restaurant, a Russian banya (sauna), reception office, and an observation deck. Each of the cabin's rooms smell distinctly of fresh wood and are packed with working room heaters, toiletries, automated bath showers and faucets, and other necessities that will make you forget you're tucked within a forest.  Indeed, it's a "home away from home", minus the television which they don't have in all the rooms as part of the "experience".
The hotel's restaurant offers an array of meals that's not heavy on the pocket, and the staff are superbly friendly and attentive to our requests. The open observation deck for Northern Lights viewing can accommodate 10 people.  Be sure to be bring lots of layers though because it can get extremely cold if you stay out too long.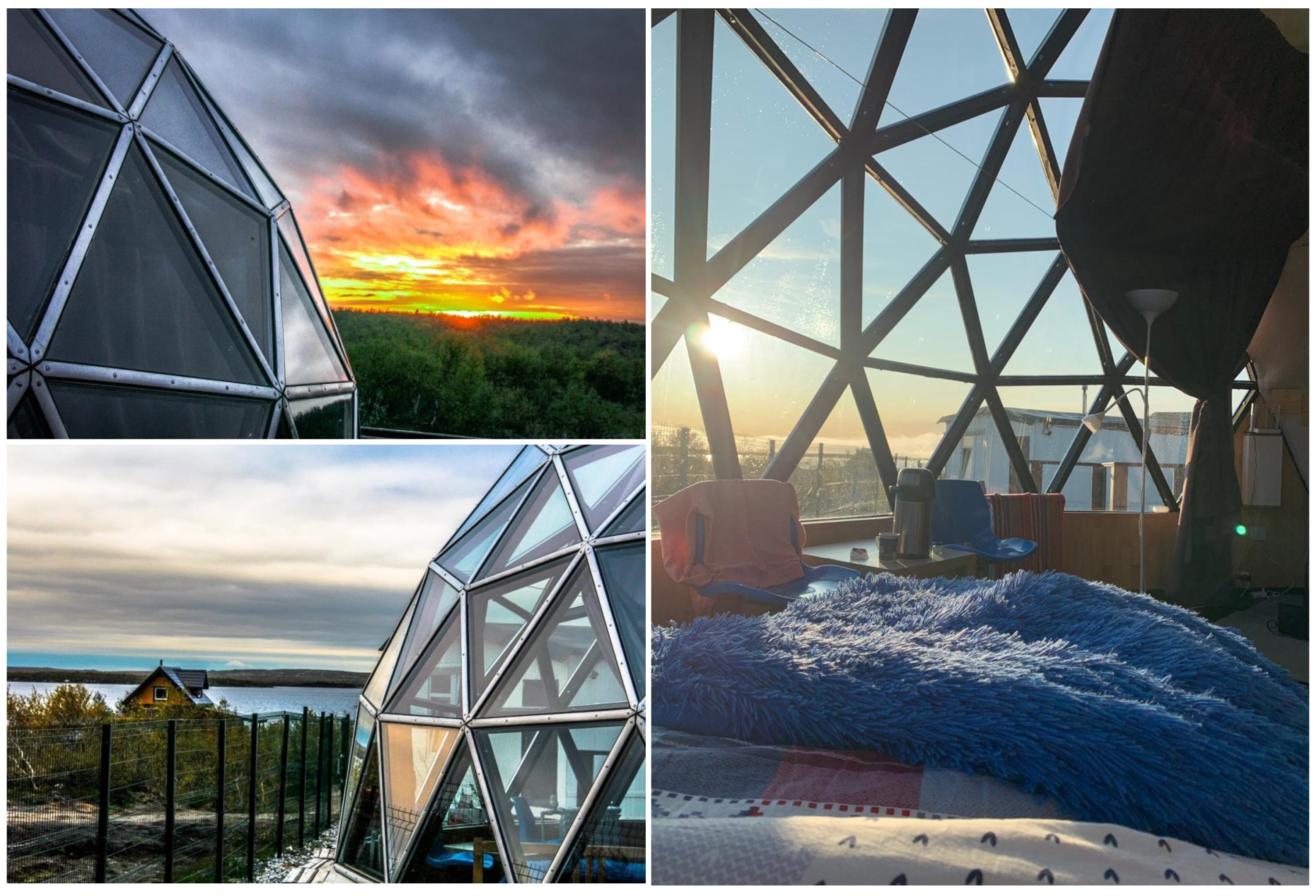 Teriberka,Khibiny Mountain, Kirovsk City & Saami Village Adventures with Aurora Borealis Hunt
The actual adventure began with a 2 to 3-hour drive to the Teriberka Village by the Barents Sea. The village, incidentally, is the setting for Leviathan, a famous Russian film that won Best Screenplay in the 2014 Cannes Film Festival.  The drive, though long, offers a glimpse of the majestic scenery of the Arctic Tundra (Russian word meaning uplands, treeless mountain tract).  Don't worry, you get to take instagramable photos on stops along the way.
While in Teriberka, we visited a cemetery of wooden boats and the first metro station of the Kola North built in 1893.  As evening approached, we drove to Aurora Village near Teriberka, 49 kilometers from Murmansk City. The village consists of igloo cabins made of glass material. Each cabin can accommodate 4-5 people and is stylishly comfortable with a heater, toilet, hot and cold water, and other basic necessities.  Believe it or not, they also have strong internet connectivity.  The village also offers activities such as a husky park, a Furaco Japanese water bath, ice fishing, snow mobile, and skiing which are all available upon request.  In the evening, we were lucky to experience Shaman Circle Meditation which was a complete break and relaxation from the day's activities.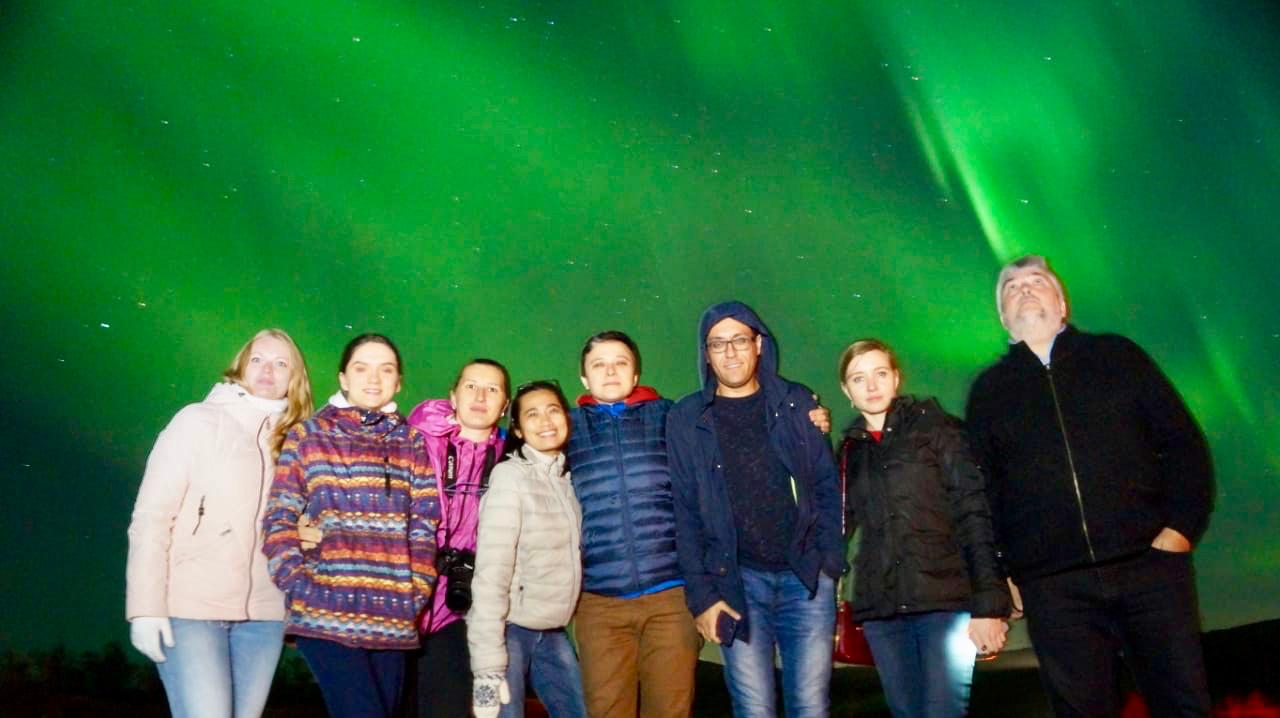 Seeing the Northern Lights
My group decided to drive back to Eco Home for the Northern Lights hunt.  Just before leaving, my heart skipped a beat as the skies began a subtle dance of green hues. The Northern Lights made their appearance!  And that was just thefirst show.  On our drive back to Eco Home, the Aurora Borealis made many more appearances – each show different than the other.  Nature's wonder is totally amazing.
The next day, we drove 3 hours to Kirovsk City to trek the Khibiny Mountain – one of the two mountain ranges of the Kola Peninsula, 200 kilometers away from Murmansk.  The Trek concludes with a majestic waterfall along the Poachvumyok mountain stream, Bolshoi Vudyavr, and Imandra Lakes. 
We headed next to Saami Village in Apatity where we were treated to a traditional Saami lunch.  After spending the rest of the afternoon feeding reindeers, playing with the huskies, and hearing some history and myths about the Saami tribe, we drove back to Eco Home for dinner. 
It was already past 8pm but since there was still light, it felt like 5pm in the Philippines. I couldn't wait for darkness to fill the night. This time we spent the night at the Aurora Village and my heart raced knowing I'll catch a better view of the northern lights with the day's good forecast. 
True enough, on the way to Aurora Village, the skies began to burn, cascading colors of green and yellow and few violet.  It was as if the cold winds played the music, and the colored shifting skies danced to its merriment.  Tears brimmed my eyes as unspoken joy filled my heart seeing nature's greatest light show.
The last leg of my Northern Lights adventure commenced with a guided tour of the Lenin Icebreaker, a Soviet nuclear-powered surface ship and the first nuclear-powered civilian vessel turned into a historical museum.  After a sumptuous Russian lunch at a local restaurant, we drove to the city and visited the Aloysha – referred to as Defenders of the Soviet Arctic during the Great Patriotic War.  This monument pays tribute to Soviet soldiers, sailors, and airmen of World War II.  
We were later driven to an amusement park where we rode ATVs and played with huskies, and then led to a fish market where we bought some local produce before bidding goodbye to other members of the travel group while a few opted for an extended stay.  It was the conclusion of my Northern Lights adventure. 
My Takeaways
On the long-haul flight back to Manila via Aeroflot, I can only think of how grateful I am for having the opportunity to travel far into Russia.  I got to meet new friends, eat authentic Russian cuisine, experience things I never thought I would, and most of all, see the Northern Lights with my own eyes.  Suddenly, I feel like a different person. 

Walt Disney once said, "All our dreams come true, if we have the courage to pursue them".  The man was right.  My Northern Lights Dream had finally come true.
Genelyn shares her experiences from her Northern Lights Tour last September 2019. If you would like to experience the Northern Lights like Genelyn, simply sign up for our Northern Lights package.