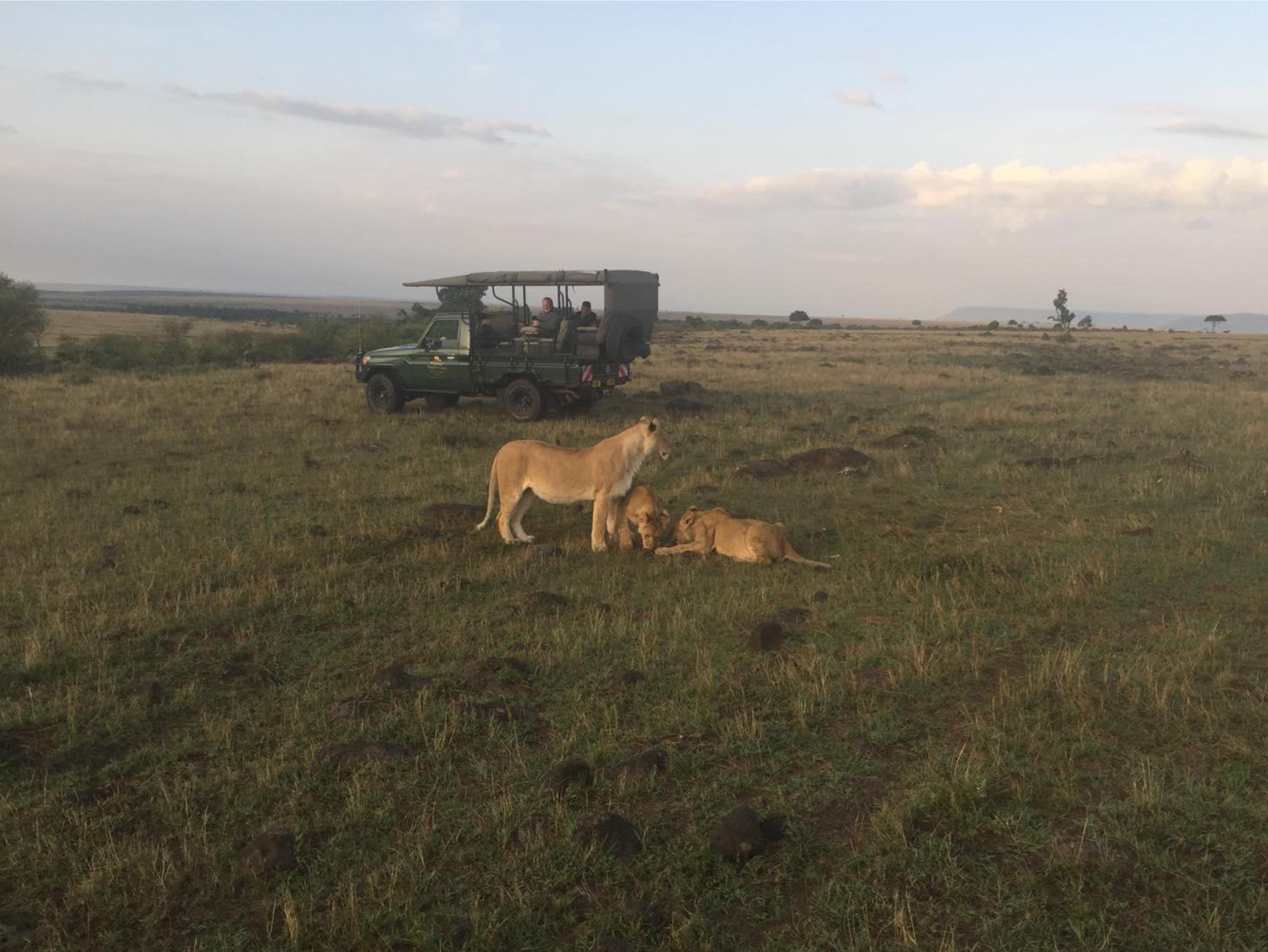 Our Kenya Safari Adventure
Kenya immediately came to mind when my husband and I were choosing which destination to check off our bucket list. I had always wanted to try a safari and I had heard Kenya was the perfect place for this.  After working on the travel arrangements with Cristina Travel, we found ourselves onboard a Kenya Airways flight on the way to Nairobi, Kenya.
At Jomo Kenyatta International Airport, we were welcomed by a Safari 4×4 vehicle that took us straight to our hotel.  It was the perfect way to set the mood for our safari adventure.
 The next day, we were taken to the Giraffe Center in Lang'ata, approximately 20 kilometers from Nairobi.  The Center was set up as a breeding center for the endangered Rothschild giraffe, but now operates conservation and education programs for Kenyan school children.
Here, the giraffes fed from our hands!  Up close, we saw how they use their long tongues to remove leaves from prickly acacia branches.  It was such an amazing experience!
After our sweet encounter with the Giraffes, we were driven to the Karen Blixen Museum.  This is the former African home of Danish author Karen Blixen, famous for her book, Out of Africa, which chronicles life at the estate from 1917 to 1931.  The museum shop offers handicrafts, posters and postcards, the movie "Out of Africa", books and other Kenyan souvenirs.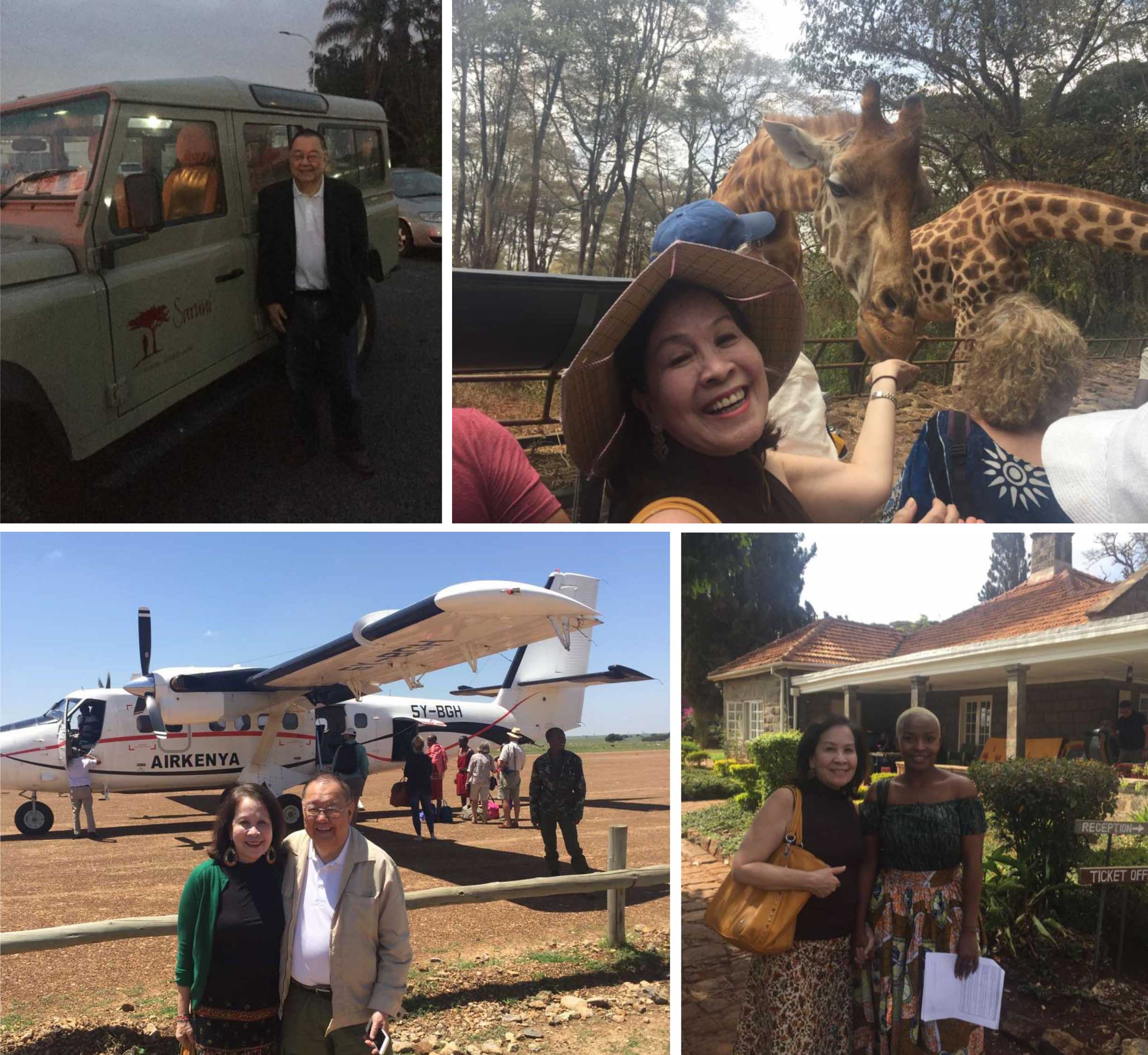 On our third day in Kenya, we took an hour flight to Masai Mara, about 270 kilometers from Nairobi.  We opted to fly instead of taking the option of driving for six hours to the reserve. The Masai Mara National Reserve is one of the most popular tourist destinations in Kenya.  The park is located in the Great Rift Valley in primarily open grassland and is regarded as the jewel of Kenya's wildlife viewing areas.
We chose to stay in one of the 5-star luxury camps available at the reserve.  I was so impressed by the amenities available to us, such as the four-poster bed with mosquito netting that was set up in our room.  Even if we were camped out in the middle of a game reserve, we could still enjoy most of the amenities of a 5-star hotel!
We went on our first game drive in the afternoon, accompanied by our guide from the Masai Tribe, who was dressed in his native regalia.  So authentic!  We hopped into our safari 4×4 vehicle and kept our eyes open for wildlife.  It was exciting to see animals walking freely in the wild.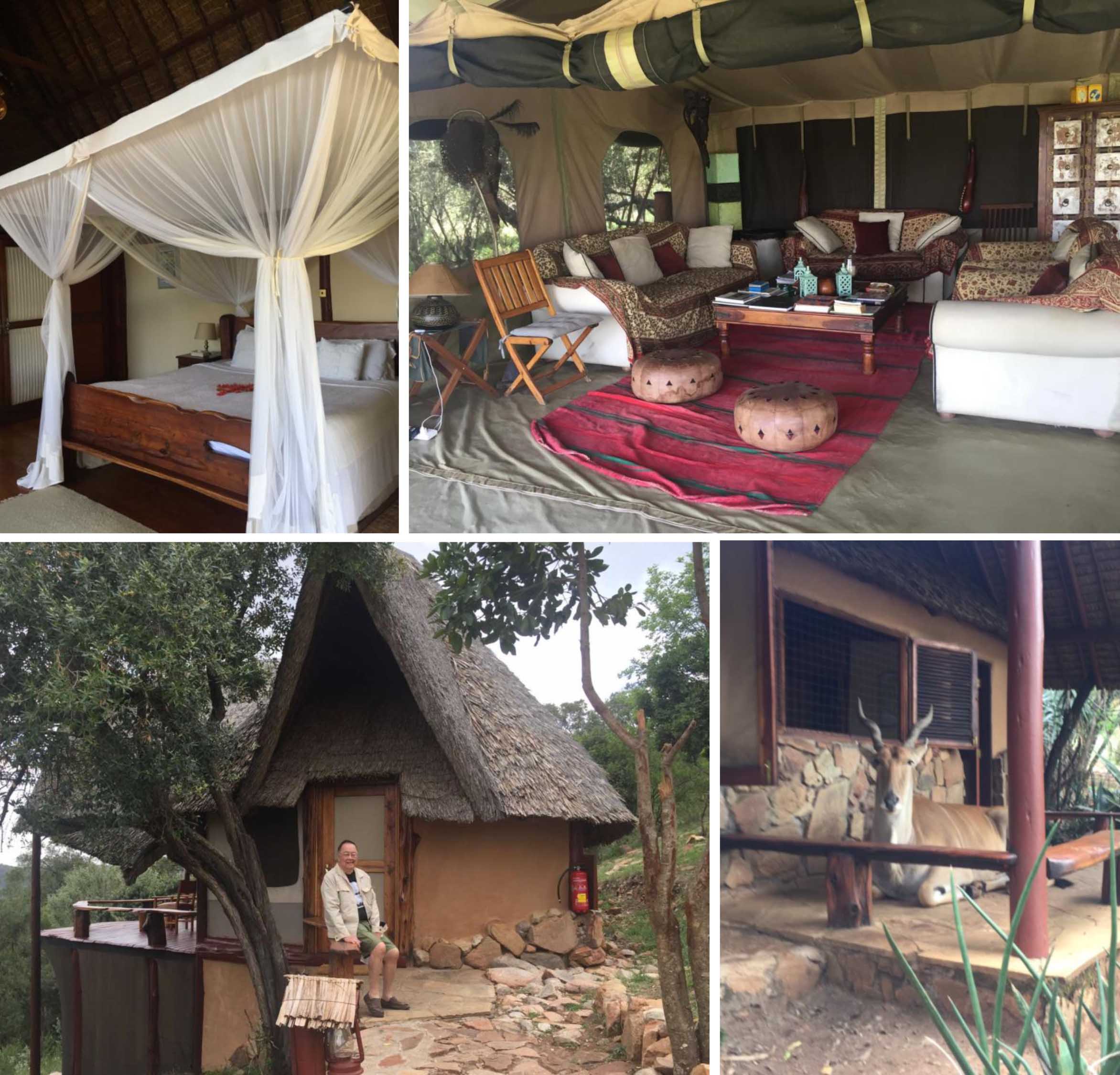 The next day, we left camp early after breakfast to make sure we would be able to see the lions before they go to sleep.  True enough, shortly after starting our game drive, we already spotted a pride of lions strolling around.  Our safari van stopped close by so we could watch the lions in their natural habitat.  
We saw more animals on our drive, stopping by every now and then so we could get a better view.  There was a herd of elephants with their calf in tow, a tower of giraffes, and a cheetah with its kill.  We would get a rush of adrenaline each time we spotted an animal.  We were ecstatic! 
Our guide found a safe place for us to set up a table for a romantic lunch, with our food packed in a picnic basket.  The park was peaceful, and if you pay close attention, you can hear the grass and the leaves from the trees rustle in the warm breeze.  
After lunch, we drove around for more animal sightseeing, then went back to camp before sunset where we were welcomed by the sight of an Eland, a type of antelope common in the savannah and places of Southern Africa, making himself comfortable in our camp.  We were told this Eland was the camp's regular guest, frequenting a spot near one of the cottages.  Later in the evening, we spent dinner with other visitors of the camp.  The food was delicious, and we found out it was prepared by an Italian Chef.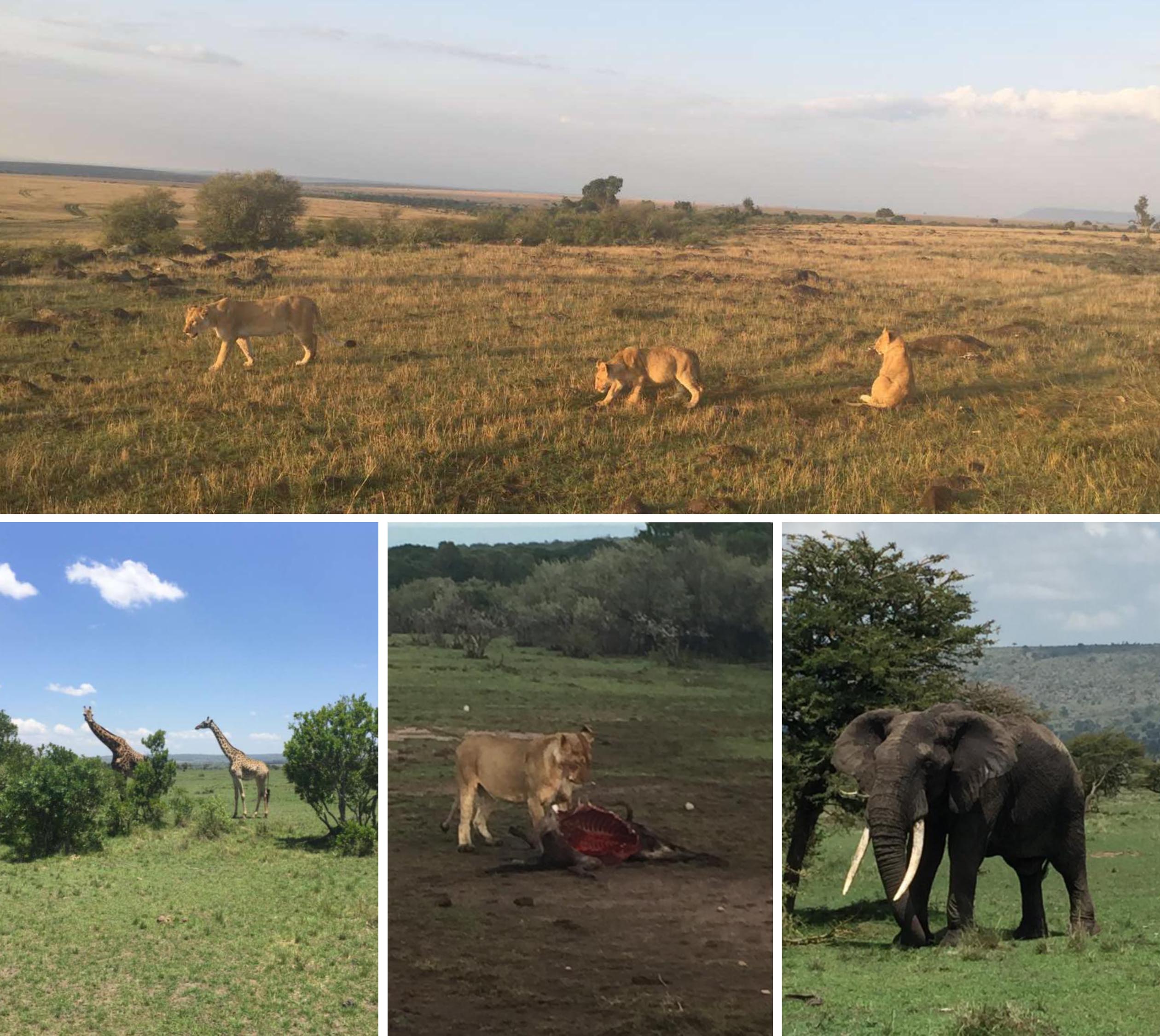 The following day, we started off early again to catch the lions.  This time, our excitement doubled as we witnessed one of the lions go for a kill!  We could only watch in astonishment. After the thrilling moment with the lions, our 4×4 vehicle drove by a river so we could watch the hippos having their daily bath.  We had to stay and watch from afar as hippos can easily charge once agitated.  We spent the rest of the day watching more lions, elephants, rhinos, and giraffes out in the savannah.  That evening, the camp put on an evening show for all the guests.  We gathered around a camp fire and soon enough, our fellow guests were dancing!  We joined in the fun too!
On our sixth and last day in Kenya, we were brought to a school chapel to hear Sunday mass.  The compound housed its students, keeping them safe from travelling and exposure to the wild animals.  The floor was just dirt and roof unfinished, but you could feel the sincerity of the community in prayer.  It was a touching mass service. 
The chaplain toured us around the school and introduced us to the school principal.  The school was very bare, but after seeing the projects made by the students on display, you can tell they are very serious with their studies.  Before leaving, we were given rosaries made of beads as a remembrance, and that same moment I whispered a prayer of thanks for the wonderful Kenyan safari adventure we experienced.
As we drove back to Nairobi, we saw a lion sleeping in a shade, its tail making swift sways in the air – as if bidding us goodbye.  As my husband held my hands, I knew we would be looking forward to more travel adventures in our lifetime.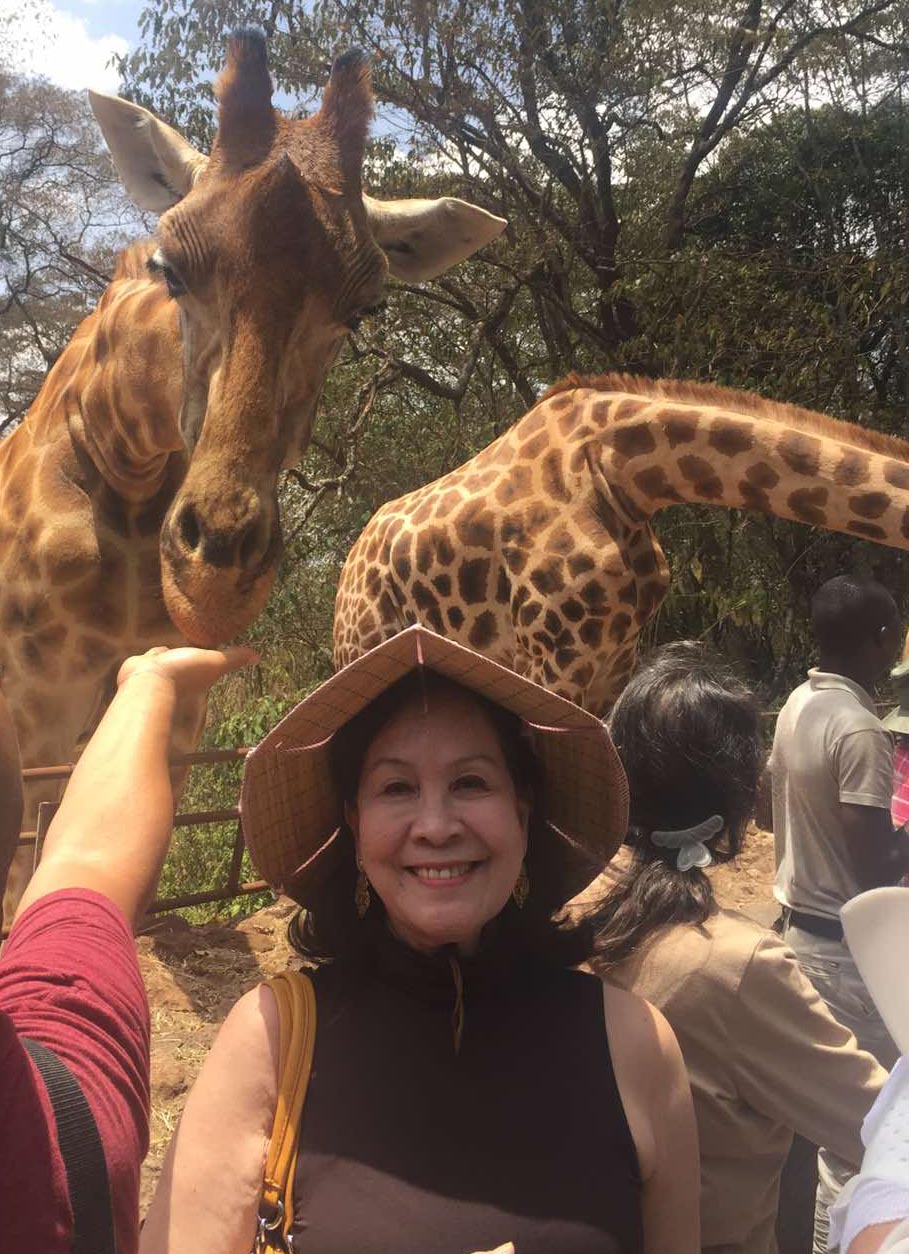 We went on our first game drive in the afternoon, accompanied by our guide from the Masai Tribe, who was dressed in his native regalia.  So authentic!

 

We hopped into our safari 4×4 vehicle and kept our eyes open for wildlife.  It was exciting to see animals walking freely in the wild.
Marita shares her experiences from her Kenya Safari Tour in February 2018.  If you would like to experience a safari adventure, simply contact us for our Kenya Safari package.